There is heat on a young chap who describes himself as an upcoming artiste after he uploaded some of Wizkid's songs online, making money from them in a controversial way.
The guy called Wise Kid has allegedly been making $73,170 monthly since October 2020 by uploading Wizkid's recent album, Made In Lagos on Apple Music, Amazon, Shazam, and Tidal.
As 'The Punch' reports, an album uploaded by Wise Kid on the streaming platforms is titled "Lasgidi Made," a nominal alteration of the original "Made In Lagos" by Wizkid. But despite the change in title, all the songs contained in the album are songs by Wizkid, including Essence, Ginger, Grace, No Stress.
Wise Kid also uses similar social media handles to Wizkid. On Twitter, he is @wisekidaya, whereas Wizkid goes by @wizkidayo.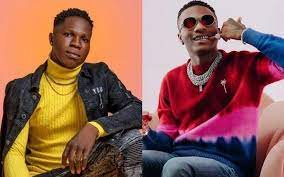 ""Wise Kid drew attention to himself after he tweeted a now-deleted screenshot of an Apple Music analytics which he captioned "On God." The screenshot showed that in the past 4 weeks he's enjoyed 9.3 million views, 133.6k average daily listeners, and 1.2k song purchases.
""Wise Kid has denied the accusation of copyright infringement. He tweeted, "I'm just an upcoming artist I know nothing about this and please am not the one distributing Wizkid album on Apple music."
""He also claimed that Freeme Digital, a music distribution digital company, handles the distribution of his songs," it noted, adding thet the company had however refuted the claim.