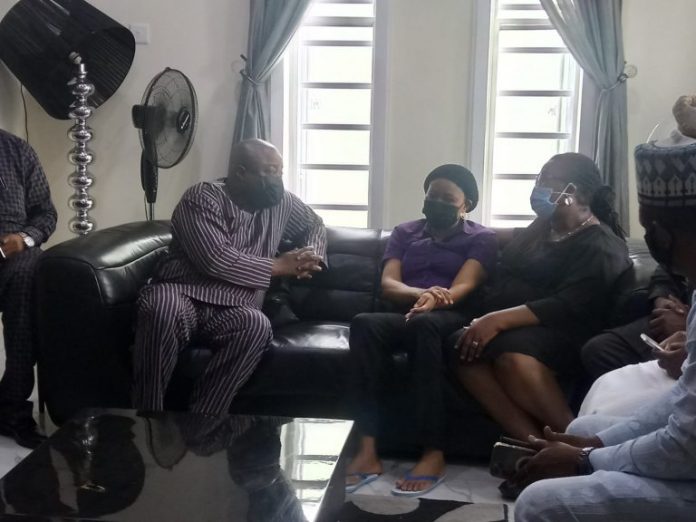 The Lagos Speaker, Mudashiru Obasa, has described the late Spokesperson of Afenifere Renewal Group, Yinka Odumakin, as a well known critic and great representative of the people.
Obasa made the remark when he, alongside other Lagos House of Assembly members, paid a condolence visit to the wife and family of the deceased on Tuesday at their residence in Omole area of Lagos State.
The News Agency of Nigeria reports that late Odumakin died on Friday night after battling respiratory problems occasioned by COVID-19 complications.
Obasa, who was received by Odumakin's widow, Dr Joe Okei-Odumakin spent time consoling her, expressing that the death was indeed a great loss to the masses and the nation in general.
According to Obasa, the late political activist had always been constant in the cause and his struggle for human rights.
"His judgement had always been based on sincerity; the masses, especially the Yoruba Nation will miss him.
"It is indeed a great loss," he said.
The speaker urged others, especially those who belong to his group, to continue from were he stopped.
He advised them to put in more effort to achieve more than what he did adding that it was not yet Eldorado.
"They have to put in more strength and determination so that we can get this nation particularly our region to the position we desire," he said.
Obasa extended his condolences to the wife of the deceased and family and urged them to be strong and put their faith and belief in God.
He prayed Almighty God continue to be with them, sustain and give them strength to bear the huge loss.
Obasa further appealed to Nigerians especially Lagosians to be cautious of the fact that COVID-19 is real and still exists.
The speaker urged all to obey all safety protocols of the pandemic and advised that Lagosians should receive the vaccine when the opportunity arises.
"If the opportunity arises, l appeal to all to be quick and take the vaccine.
"By doing that, we would have contributed our quota to curbing the pandemic," the Lagos Speaker advised.