Veteran sewele singer, Iya Laduke, has spoken on her relationship with Waka Queen, Salawa Abeni.
The duo are among the most successful Nigerian female artistes in the traditional genre.
Iya Laduke say they are very close but they have never contemplated collaborating.
In an interview with 'Sunday Punch', she notes, "Though, we are close, there is no plan yet to collaborate and do a record together. Anytime she comes to Ilorin, she visits or calls me to tell me where she will be staying and I go there to see her. Any time I go to Lagos too, I usually visit her, but as for music collaboration, we have not planned it."
On thematic preoccupation, the woman sho says she started 75 years ago explains that she does not dwell on curren affairs.
Her reason: "I don't compose music about current affairs so as not to run afoul of the law or get into trouble with the government of the day. Some politicians invite me to their campaigns but I won't abuse the opposition in my songs. I don't abuse politicians."
She adds that music has taken her to different places with a lot of blessings to show.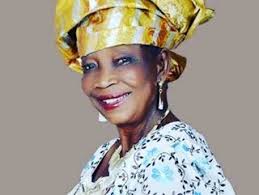 She explains, "Yes, music took me to so many places. People would invite me to come and entertain them and I would go perform for them. I've lost count of the number of shows I have done in Ilorin. I have been to Kaduna; Kano; Sokoto; Yauri, Kebbi State; Jos, Plateau State; Ibadan, Oyo State; Lagos; Osogbo, Osun State; Iseyin and Shaki in Oyo; Abuja; Abeokuta, Ogun State, etc. Outside the country, I have been invited to perform in Cotonou and Ajase in Benin Republic; Togo; Accra, Ghana; and Abidjan in Cote D'Ivoire.
"I went for an outing in Lagos; Asiwaju Bola Tinubu invited me to the installation of Iyaloja and Lai Mohammed's (now Minister of Information and Culture) wife was also installed as Aseto Ilu. They invited Sikiru Ayinde Barrister and me. We were sprayed with naira notes and I was able to spend the money realised that day on something tangible. Another one happened in Togo, where 13 people jointly invited me to play for them. It was an all-expenses-paid trip to Togo. I didn't know that 13 people could jointly invite a musician to come and play for them."