Popular fuji musician, Was Ayinde, K1 de Ultimate, has said that he never said that fuji legend, Sikiru Ayinde Barrister, was not the creator of the genre.
A few years ago, controversy erupted when K1 was quoted as saying that Barrister was not the originator of fuji.
The reference came from an event held at the Airport Hotel, organized by Nigerian Breweries Plc.
Many associates and fans of Barrister, as well as his family members, had tackled Wasiu then.
But in an interview published in 'Sunday Punch', the artiste, who recently became the Mayegun of Yorubaland, said he never denied barrister the credit.
He said, "I never said Barrister was not the originator of fuji music. People just like to dwell on controversies. We have moved past that and I don't want to talk about an issue that is long gone. Barrister was a great man. He was the one who mentored and tutored me on the rudiments of life, especially in the genre of music I play. I served and lived with him. Today, everything about me, to the glory of God, is due to the goodness of Barrister. I can't come out to condemn him. When people want to create certain situations, they cook up something that is not real. But, I can't fall for such petty and cheap things. Barrister is late today and someday, we would also all pass on. So, we shouldn't speak ill of the dead."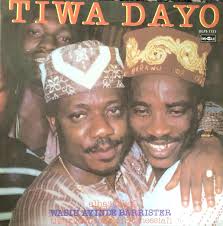 K1
He also spokee on his relationship with other fuji acts, including Obesere and Pasuma.
He and Obesere are believed to be strange bed fellows while Pasuma too was said to have fallen out with him not long ago.
He explained, "Obesere is just one out of many musicians in the country. I served people before me and I never saw myself as being above them. I respected the fact that they were older than me and were also my leaders in the industry. I have good working relationships with several other musicians, so why single out Obesere? Whenever I organise concerts, I choose which of the artistes to feature based on information we collect from our patrons. I do that as a form of maintaining unity in the industry. So, I don't know why people keep asking me about Obesere.
"Everybody is fine with me. They are all doing well. We should be seen as good people of a working nation, helping one another to keep the industry clean and growing for the betterment of the young ones coming after us. That's what we should be thinking about, not about disagreements all the time."