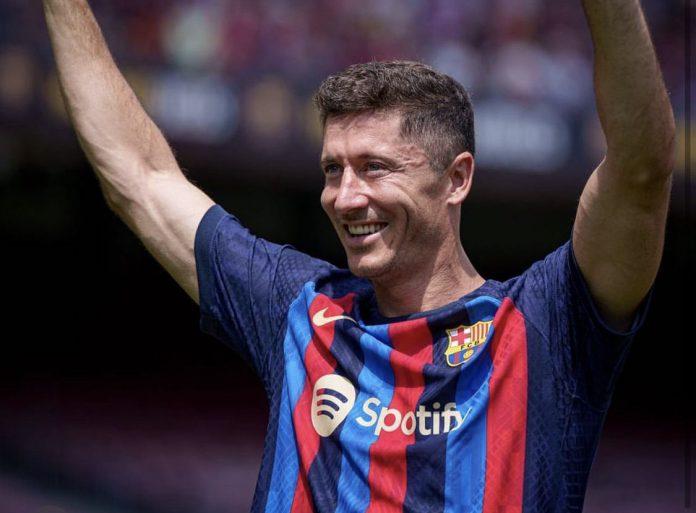 Mueez Ajao
– Barcelona officially unveiled Robert Lewandowski at the Camp Nou on Friday and have confirmed the striker will wear the No. 9 shirt at the Camp Nou.
– Lewandowski was presented on the pitch wearing the 9 on his back which belonged to Dutchman Memphis Depay last season.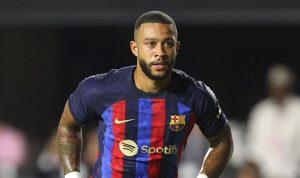 – President Joan Laporta was then asked about the squad numbers at a press conference and confirmed Lewandowski would be keeping hold of the 9 for next season.
Also Read: Barcelona unveil Robert Lewandowski
TOT EL CAMP! 👏👏👏 @lewy_official pic.twitter.com/dx8YpDKG6f

— FC Barcelona (@FCBarcelona) August 5, 2022
Niner! pic.twitter.com/CGqLtrGZzc

— FC Barcelona (@FCBarcelona) August 5, 2022
Bon dia! @lewy_official flexing the Catalan! 💙❤️ pic.twitter.com/UaJwwvJmYj

— FC Barcelona (@FCBarcelona) August 5, 2022
– "Lewandowski's number 9 was a club decision. For reasons that interest the club, for image and advertising reasons," he said. "We have considered it an appropriate decision and we have made it with all due respect for Memphis and he has understood perfectly."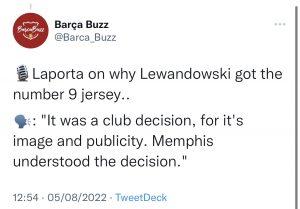 – There has been speculation Memphis will move on this summer following the arrivals of Lewandowski and Raphinha and with Ousmane Dembele having renewed his contract.
– Juventus and Borussia Dortmund have both been linked with the forward who seems to have accepted the fact he must leave if he wants regular minutes next season.
Borussia Dortmund have contacted Barcelona over a deal to sign forward Memphis Depay, however the Spanish outfit want €20m while Dortmund can only afford a loan move. (Sport) pic.twitter.com/eRUGkUe3vT

— Transfer News Central (@TransferNewsCen) August 3, 2022
Juventus are keen on a deal to sign winger Memphis Depay from Barcelona. (Sport) pic.twitter.com/aXmPzmQHPJ

— Transfer News Central (@TransferNewsCen) August 5, 2022
– When Barcelona put up free tickets for his presentation, Robert Lewandowski was expected to break Zlatan Ibrahimovic's record for the highest attendance during a Barcelona player presentation.
– The Swede saw 60,000 at his presentation, etching his name forever in the club's record books. 13 years down the line, Lewa had the chance to break this, but fell just short.
– It was revealed during the presentation that 59,026 fans showed up at the Camp Nou for the ceremony.
59000 personas en la presentación de Lewandowski 🔥 pic.twitter.com/BbAbrtx29K

— Siempre Cules (@Sempre_Cules) August 5, 2022
Bon dia! @lewy_official flexing the Catalan! 💙❤️ pic.twitter.com/UaJwwvJmYj

— FC Barcelona (@FCBarcelona) August 5, 2022
Robert Lewandinho! 🤩 pic.twitter.com/sNzcJbhPoW

— FC Barcelona (@FCBarcelona) August 5, 2022
best fans itw pic.twitter.com/Q8Sqf3Uct6

— FC Barcelona (@FCBarcelona) August 5, 2022
Looking super 😍 pic.twitter.com/F3uf0JfSYR

— FC Barcelona (@FCBarcelona) August 5, 2022
I never knew there was a … love like this before pic.twitter.com/oERYrr9nC9

— FC Barcelona (@FCBarcelona) August 5, 2022
2022: A Lewy Odyssey pic.twitter.com/tQXRMEphsR

— FC Barcelona (@FCBarcelona) August 5, 2022
— Barça Buzz (@Barca_Buzz) August 5, 2022
📸| Photos from Robert Lewandowski's press conference. #fcblive pic.twitter.com/oueQo6UBCq

— BarçaTimes (@BarcaTimes) August 5, 2022