Mrs Adeola Oseni, widow of Bob Oseni, friend of the developer of the 21-storey building that collapsed in Ikoyi, has explained the relationship between the two.
She also explained why her husband was with Osibona on the day of the tragedy.
In a statement she released on Wednesday, she said the clarification became necessary based on some misinformation greeting the development:
Wale Bob Oseni: We Thank God for Your Life
On Thursday, November 4, 2021, our hope that our husband, brother, son, nephew, friend and the core of many networks of hardworking young and upwardly mobile Nigerians, Wale Bob Oseni would be one of the survivors of the ill-fated crash of the 21-storey block on Gerrard Road, Ikoyi, Lagos, was dashed.
Since we identified his body, we have been struggling with the nightmarish reality of our irreparable loss, the chasm of his abscence and the multti-dimensional proportions of this transition from being to nothingness.
Our faith teaches that in everything, we should give glory to God. He knows the beginning. He knows the end. He knows why our benefactor had to make his exit in this circumstance.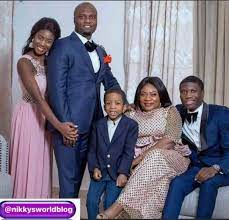 We thank sympathisers who have visited, called or written to condole with us in this moment of our grief. We appreciate your support and pray that God protect you from dangers like this.
We understand that it is not possible for an event of this magnitude to occur without the press, as the Fourth Estate of the Realm and the watchdog of public institutions and values, playing its professional roles to inform, educate and entertain.
Perhaps as a result of the mass involvement in what is supposed to be a technical process of sifting truth from hearsays and facts from fiction, a lot of inexactitudes and outright falsehood have sneaked into the narrations in the public domain.
It is not true that Wale Bob Oseni was a director or contractor in the Fourscore Properties construction transaction. The owner, Femi Osibona and Wale were both alumni of Mayflower School, Ikenne where both bonded. It was this camaraderie that made Osibona to invite him to see the dream project he was building.
It is not true that Wale Bob Oseni was engaged in real estate business in Nigeria. His base was the United States where he worked his way up to handle substantial.mortgages.
As a patriotic Nigerian who desired to contribute to the development of his fatherland, Wale travelled often to Nigeria where he maintained home at the Eleganza Gardens, Ajah. He also utilised his visits to explore business opportunities…"
MRS ADEOLA OSENI (wife)